1
« on: August 12, 2018, 01:39:22 AM »
Hi everybody. A few ideas to improve the forum:
Forum members
– Post, post, post... just discuss everything you can. This is an excellent aggregator for all news about women's football, I often used it to post on here.
– Articles are usually a good start-point for discussion (Links are necessary, as not everyone is up-to-date on the news otherwise)
– Give threads 'general' titles if you can, so that the discussion can expand beyond a single match or incident
– In subforums "WSL" and lower, just have one thread per season (e.g. "WSL 2018/19" / "Women's Championship 2018/19") which all posts can go in. In those small subforums, there's no sense in multiple threads bumping each other off the homepage.
– Don't give threads titles that are hard to understand, such as
"Whats the excuse from Cobham FC Ladies this time"
– Spread the word, tell other people...
Parents/RTC folks
Keep using the
Girls' Centres of Excellence/RTC
threads. They're the lifeblood of this forum, and they fulfil a real social function in getting young players to teams. They've also been some of the most popular threads since they came in 6½ years ago.
David/Admin
The forum needs more posters and new members. With a few small changes you can facilitate this.
As mentioned, Girls' Centres of Excellence is a vital subforum - it's the main reason a lot of users visit the site. It should be moved up so it's 2nd to Women's Football.
To increase those discussions' visibility, move the less important sections "Announcements"/"Introduce Yourself"/"Support and Suggestions" to the bottom. They're in the way of the important stuff, the posts are months old, they make the site look dead even when it isn't.
Membership: Last year I started a Euro 2017 game, as it seemed like a good way to draw new members. I saw dozens of people come from Twitter to the
Who's Online
page, and then a smaller number "Registering for the forum", and then... nothing. Nobody registered. Because when you click "Register", you see this wall of FBI drivel: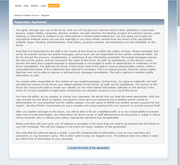 No successful site does this to new users. Unless you want registrations to stay low, disable that page:
-
https://www.simplemachines.org/community/index.php?topic=411624.0
Forums have not been replaced by Facebook and Twitter - those sites are no good for in-depth discussion, and terrible for finding old info.
Women's football is doing quite well in England, and I'm happy to say that there are decent women's football forums for
Scotland,
Ireland,
South Australia,
New Zealand
and the
Philippines
. Last summer this forum was getting hundreds of posts (not counting mine
), but when the site has big problems, nobody puts the effort in.